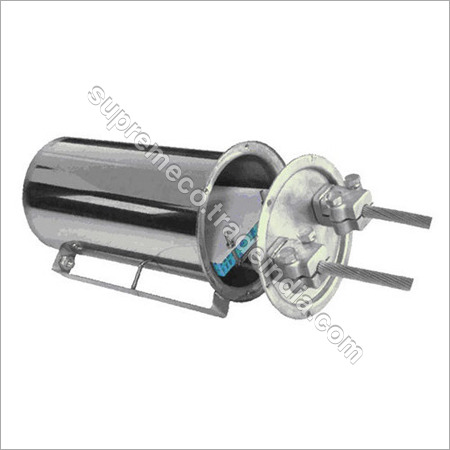 Outdoor Optical Joint Box
Product Code : OJB-023
Price And Quantity
Minimum Order Quantity

:

1000
Unit of Measure

:

Pcs
Product Description
With a vision to be reckoned as one of the leaders in the power transmission industry, we make available an unmatched range of Outdoor Optical Joint Box. Made using quality aluminum alloy at our state of the art machining facility, these boxes are used to protect and fix the spliced fiber. Our Outdoor Optical Joint Box is replete with numerous quality features such rugged design and durability. Be it in domestic market or international, our offered joint boxes are cherished and acknowledged over the global platform.
Products Features:
Water & dust proof
Anti-corrosion
High strength
The joint closure can be used for both outdoor and indoor installations. It can be used as a line joint, butt joint, for mid-span access or as a termination box. The joint closure can be mounted on walls, in manholes, cabinets, racks or be buried directly in the ground. Joint closure made of stainless steel for mechanical protection of optical fiber joints. The closure comprises a bottom, a cover and separate cable bushings.The cover is mounted with screws.

Properties of OPGW Joint Box
Optical fiber round wire joint box has excellent mechanical and corrosion resistance.
Suitable for different types of diameter trunk and distributing optical cables.
Good for grounding system
Reliable sealing measurement.
Application
The outdoor optical joint box can be applied for jointing metallic optical cables (such as OPGW, Underground Metallic Optical Cable), non-metallic optical cables (such as ADSS, Non-metallic dust optical cable) in the open air. The spliced fibers are well protected in a closed, air-tight box.

Features
The main composing metal parts are made of stainless steel. They are excellent in corrosion-resistance.
The main parts include case and end plate, splicing trays, fiber protect tube, seal washer (i.e. O-ring), sealant which insure waterproof, moisture-proof and resistance of high current.
The number of splice tray is according to the number of fibers to be fused. A optical joint box can host up to 144 fibers.